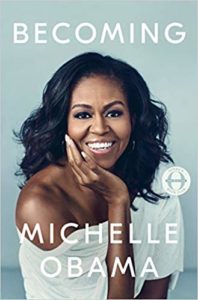 Most of you are probably aware that Michelle Obama released her memoir, Becoming on November 13th, 2018. According to the Associated Press, she sold 750,000 copies on the first day of its release and sold more than 1.4 million copies in print and digital format in the U.S. and Canada in the seven days since it was released.
Why has Michelle Obama already sold 1.4 million copies of her book since its release? And what can we learn from her as aspiring authors?
Michelle Obama has sold 1.4 million books because she already had a  platform to sell her book.
What is a platform? It is defined simply as an ability to sell books because of who you are or who you can reach.
Unless you've had your head somewhere in the sand for the last ten years, we all know who Michelle Obama is. The first African-American First Lady of the United States. A Princeton and Harvard Law School Graduate. A woman who ran the White House for eight years with dignity, class, grace and an iconic style. A loving wife and mother. And a woman who left the White House with a huge following of girls, young women and old who loved, admired and respected her for what she did while there and who, in their eyes and hearts, will be their forever First Lady.
So it should come as no surprise that her book has already sold 1.4 million copies. For she established a loyal following of fans and readers before her book ever hit the marketplace.
According to an article I read recently in Writers Digest: "For nonfiction writers, the most significant development of the past decade has been the insistence by publishers that authors have a national platform."
With that said, how can you as an aspiring author build a platform to sell the book God has given you to write before you publish it? Check out this helpful article on www.Writersdigest.com to learn how: 6 tips on how to build a platform and sell books by Chuck Sambuchino
Don't wait until your book is published to start building your platform; start building it now so you can sell not only one book, but one million.
Sharing the journey,
Jeaninne
Responding to God's call to write: What can you do today to build your platform for your book before it is published? Post your comments on my blog. I enjoy hearing from you.