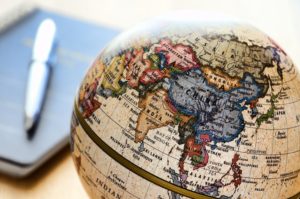 When I took my daughter to begin her first semester of college, after helping her get settled into her dorm room, praying for her safety and planting a butterfly kiss on her cheek, I left her with the following words, paraphrased from the opening song of a TV show we enjoyed watching:
"Here's a chance to make it,
If you focus on your goals.
If they dish it, you can take it,
Just remember you've been told
It's a different world,
Then where you come from"
Excerpt:  A Different world theme song: Lyrics by Stu Gardner, Dawn Lewis, and Bill Cosby
Like the different world of college my daughter was soon to enter, it's also a different world you'll enter when you begin the journey to write for publication. And beginning this new journey will require certain adjustments on your part if you're going to succeed. It will require you to adjust your current schedule to make writing a priority. It will require you to develop a habit of writing regularly to practice your craft. It will require you to get whatever training is necessary to improve your craft, and it will require you to develop the tough skin needed to accept the criticism required to improve your writings for publication.
You'll be challenged like never before as you enter the world of writing for publication, but if you'll remember to stay focused on your purpose for being there, you can make it in this different world.
Sharing the journey,
Jeaninne
Responding to God's call to write: If it is your desire to be a Christian writer, how are you preparing today to enter the world of writing for publication? Post our comments on m blog. I enjoy hearing from you.