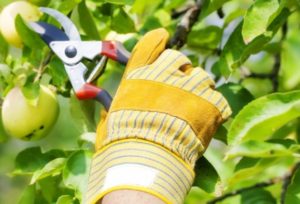 I am the true vine, and my Father is the gardener. He cuts off every branch that doesn't produce fruit and he prunes the branches that bear fruit so they will produce more. John 15:1-2, NLT
Did you know that one of the benefits of pruning a fruit tree is so that it can produce more fruit? Not only are the dead limbs cut off when they aren't producing fruit to promote better health, but the Gardner also prunes those branches that are producing fruit so they can produce more. 
Like a good gardener, our heavenly father will also look at the branches on the "trees"  of our lives to see what type of fruit we are producing. And if he sees a branch in our life that is producing fruit, he may prune it to ultimately produce more.  
Such was the case with my career. For just when I was at the apex of doing the good work God had called me to do in my chosen career, one day I heard God whisper in my ear that it was time to let it go. Although I initially resisted, in time I came to realize it was because God was pruning me. He wanted to cut back this particular "branch" in my life that was producing good fruit because he wanted to prepare me to produce more fruit in another career – the career of  Christian writing. 
Is God asking you to cut back a particular area in your life today so you can prepare to write for publication? Then consider it part of your pruning process.
Sharing the journey,
Jeaninne
 Responding to God's call to write: What area of your life is God wanting you to cut back so you produce more "fruit" as a  Christian writer? Post your comments on my blog. I enjoy hearing from you about your journey.