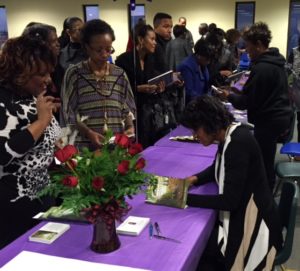 This weekend, I broke one of my golden rules as an author: I offered a book signing without having an intended audience for it.  Previously, I've offered book signings without an intended audience at local libraries and bookstores, and had vowed I'd never do a book signing again this way. Yet, here I was, on a cloudy Saturday afternoon, waiting for people to walk into the local library, visit my table and purchase a book.
One of the top promotional items on the list of a new author is to  offer a book signing. But how can you make sure your book signing generates the sales you want, as you begin your journey as an author?
Carolyn Howard-Johnson, in her book, The Frugal Book Promoter, How to do what your publisher won't, offers the following suggestions to help new authors ensure their book signings are successful:
Ask to be a speaker or reader to discuss your book with the audience.
Ask the location for your book signing to do their share of advance publicity. This  can include exposure in their newsletter, in print, or on the web, and posting signs or distributing  fliers or bookmarks in the store or library before the book signing.
Ask the sales associate at the cash register if you can stack some of your books on the counters.
Design  "knock"'em" dead signs and put your signs everywhere.
Take along wire or plastic stands and use them to display your book upright, where there is little space available.
Ask the bookstore manager or sales associate to train their salespeople to refer customers who go through checkout to your table.
Bring something to give away to those who buy your book, and make sure the giveaway includes information  for ordering your book.
Use a guestbook to encourage people to list their email addresses for future promotional purposes.
Bring your own fine-tipped markers for signing and know what you'll write before the signing, but personalize messages when you can.
Do not think of book sales as the prime purpose for your book signings; they are occasions for exposure in person and in the press, for branding and for fun.
Having a book signing as a new author is an exciting part of writing for publication, so I hope the above suggestions will help your  book signing be the best that it can be!
Sharing the journey,
Jeaninne
Writer to Writer:  If you are  a new author, are you planning to have a book signing? What suggestions in this post will you use to ensure your signing is successful? Post your comments on my blog. I enjoy hearing from you.