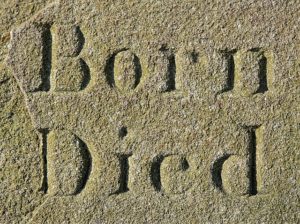 Teach us to number our days and recognize how few they are; help us to spend them as we should.  Psalms 90:12, NLT
He was only fifty-eight, yet I stood over him, wondering how a once physically fit and energetic young man could lay lifeless before me.
My friend died at what I'd considered an untimely age after losing a battle with brain cancer. But it was obvious by the large attendance at his funeral and the many words of love and admiration expressed by family, friends, and colleagues, that he lived his dash.
What is the dash? The dash represents the years we live between our birth and death. According to Kerry Shook in his book, One month to live, "each person's life comes down to what's in the dash – what transpired between those two dates. Are we living the dash, knowing fully who we are and why we're here? Or dashing to live, hurriedly spending precious time chasing things that don't matter?"
As we prepare to close out another year, it's a good time to reflect on how we as  Christian writers are living our dash. Did we live our dash by writing and publishing the words God placed in our hearts to share or were we too busy spending our time on other things?
Unfortunately, none of us are given the privilege of knowing how long we will get to live our dash. So it's important to remember the following words shared by the poet Linda Ellis:  "When your eulogy is being read, with your life's actions to rehash, will you be proud of the things they say about how you spent your dash?"
Sharing the journey,
Jeaninne
Writer's prayer: Father, help me to live out my calling as a  Christian writer between my dash. Amen.
Writer to Writer- In what ways did you live out your call to write in 2016 between your dash? Post your comments on my blog. I enjoy hearing from you!