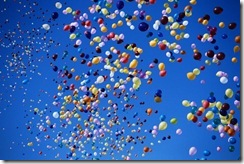 I am participating in a business plan competition and yesterday was the deadline to submit my business plan. Although there were still some things I wanted to tweak about my business plan when the deadline arrived, I submitted it anyway.
Why? Because in spite of what I didn't have in my business plan, I knew I had given it my best. I had followed the guidelines given to write each section of my business plan. I had spent countless hours on my marketing research. I had spent hours developing my data and working with a financial counselor to create my financial statements. And I had spent hours writing and rewriting my plan.
As an aspiring writer or author, sometimes you may hesitate submitting a writing project to a market because it isn't as perfect as you'd like it to be. Even after you've written the draft, had someone else review it, and written it again, you may still hesitate to submit your work because your perfectionism keeps getting in the way. But if you've given your writing project the best you can give it and found a market to send it to, let it go. For it's only in the submitting where you'll find out if your writing is good enough for publication.
Sharing the journey,
Jeaninne
Writer's prayer: Father, remove my need to be a perfect writer so I can release my writing project when it's time. Amen.
Writer-to-Writer: What writing project have you been afraid to let go of and why? What can you do today to let it go?