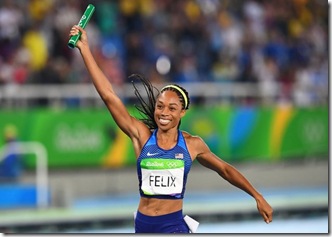 FRANCK FIFE VIA GETTY IMAGES
Six-time Olympian Allyson Felix trained for years to participate in the Olympics. But she didn't train her body rigorously because she wanted to win just any medal – she trained to win the gold.
Why are you writing? Are you writing just to write or do you have an end goal in mind? Writing for the sake of writing may work for awhile, but don't be surprised if you lose momentum if you don't have an end goal in mind.
Instead, determine what your purpose is for writing, and then establish the training program needed to accomplish it. For example, your goal might be to complete a manuscript God has given you, or to write a blog you've created for a specific audience. Your training program might include writing a chapter a day towards your manuscript or a daily blog post for your blog. When you find yourself getting weary and wanting to give up on your daily training program, that's when you'll need to focus on your end goal to inspire you to keep going.
Training to write professionally will require as much determination as training for the Olympics, so don't just settle for any kind of medal – go for the gold!
Sharing the journey,
Jeaninne
Writer's prayer: Father, help me to train vigorously as a writer so I can win the gold medal of publication. Amen.
Writer to Writer: How are you training to win the gold medal of publication? Post your comments on my blog. I enjoy hearing from you!