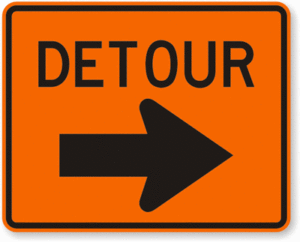 While listening to the radio, I heard a man talk about an accident he encountered on his way to work using his normal route. After seeing the severity of the accident, he realized he had two options – to wait in traffic or take another way.
Aspiring writer, life can be like that as you seek to write for publication.  As you "drive" the route you have chosen to get to your destination of publication, an obstacle arises. For example, you might encounter the obstacle of having too many distractions or the obstacle of procrastination or the obstacle of rejection.
When obstacles arise on your journey of writing for publication, you have a choice – to let them impede you from reaching your writing destination or to take another way. For example, if your current writing space is not working out for you, find a better space. If your current schedule is not allowing you time to write, decide what to cut out so you can. If you submitted an article for publication and it was rejected, submit it again to another market.
Overcoming obstacles will always be a part of your writing journey. So when you run into an obstacle that impedes you from achieving your goal to write for publication, look for another way.
Sharing the journey,
Jeaninne
Responding to your call to write:  What adjustments do you need to make in your life as an aspiring writer to achieve your writing goals? Post your comments on my blog. I enjoy hearing from you.