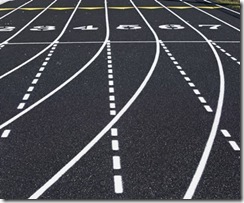 Let us run with perseverance the race marked out for us,  fixing our eyes on Jesus, the pioneer, and perfecter of faith. Hebrews 12:2, NLT
I attended an event recently for a popular Christian author and Bible-teacher I have admired for awhile. As I listened to her speak powerfully to the women that attended her event and watched her introduce her next book in a line of best-sellers she has published, I so much wanted to be in her lane.
Being in her lane means I'd like to run her race as a Christian author and speaker rather than mine. I'd like to run her race because she writes prolifically and I'd like to run her race because she's published a number of best-selling books.
But the writer of Hebrews reminds me to stay in my lane.  Even when it seems I am running slower than others to achieve my writing and speaking goals, I am reminded to stay within the boundaries of the lane God has given me as a writer. And to keep running with endurance until I cross over my finish line.
God has also given you a particular race to run on the journey to write for publication, so be careful not to envy others who seem to be running the race faster than you.  Instead keep running with endurance the race God has set out specifically for you to accomplish as his Christian writer until you cross over your finished line.
Sharing the journey,
Jeaninne
Responding to God's call to write: How can you stay in your lane today as you write to submit your work for Christian publication? Share your comments on my blog. I enjoy hearing from you!