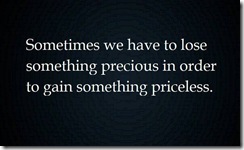 I've started a coaching business for aspiring Christian writers, which will require me to begin charging for information and advice I've given out in the past for free.  And as I begin charging for my services, I know I may have to lose before I gain.
What that means is I may lose some existing writers I have been working with. I may lose those who have received my services for free and do not want to begin paying for them. I may lose those who think my services are too expensive and not worth the investment required, and I may lose those who simply can't afford the cost of my services.
But on the other hand, I will gain. I will gain writers who value what I offer, and I will gain writers who understand that any service I offer to help them write for ministry and publication is worthy of the investment required.
Best-selling author Steve Harvey has said: "You can't take everyone with you as you climb the ladder of success; some people will fall off along the way."  For me, that means some of the people I currently help may fall off as I begin charging for my services. But as they fall, I'm glad to know I will gain others who appreciate what I do for them.
What are you willing to lose in order to write for ministry?
Sharing the journey,
Jeaninne
Writer's prayer: Father, help me to be willing to lose whatever is necessary to gain the joy of publication. Amen