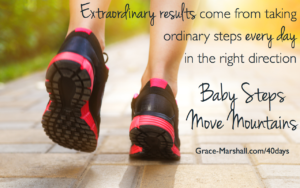 It's such a fun time in a baby's development when they begin to walk. But since the art of walking can be daunting at times, a baby may decide it's easier to keep crawling. However, as his mother gently encourages him each day to take a step, a baby gains confidence in his walking abilities.
Similarly, the goal of writing for publication can be a daunting task to achieve. And as an aspiring writer, you may even decide to give up on your desire to write for publication because the task is too hard to accomplish. But instead of looking at your long-term goal, focus instead on taking one step at a time towards your destination. For example, take a step to write a certain time each day towards your writing goal, or take a step to write a certain amount each day towards your writing goal. You may start off  a little shaky at first, but if you'll take your first step, you'll gain the confidence needed to take the next, until you're "walking" confidently.
Sharing the journey,
Jeaninne
Writer's prayer:  Father, help me to overcome my fears and take a small step towards writing for publication, even if it's just a little one. Amen
Writer- to- Writer: What baby steps are you taking towards your goal to  write for publication? Post your comments on my blog. I enjoy hearing from you!