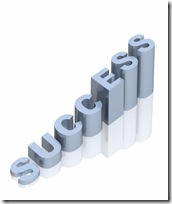 But I will not do this all in one year because the land would become a wilderness, and then wild animals would become too many to control. I will drive them out a little at a time until your population has increased enough to fill the land. (Exodus 23:29,30)
I remember the day I stepped away from my job and came home to pursue a career as a professional Christian writer. I just knew my next step would be to publish my first book, and Oprah would be calling my agent to be a guest on her talk show.
But that never happened. Instead I was directed to join a writer's group, where I spent the next three years honing my writing craft, until I was ready to publish. 
In one day, God could have removed the people who inhabited the land he promised to Israel. But he knew the Israelites were not ready yet for their new land. So he drove out their enemies a little at a time, until the population of Israel increased enough to fill the land.
Aspiring writer, God is able to give you immediate success in the land of publication, but he knows when you are ready to handle it. Instead, he may have you build your credentials a little at a time, by submitting your work to smaller publication markets. As your credentials increase, opportunities will arise to submit your work to larger  markets, where greater success may come. So take pride in your small publication accomplishments as a Christian writer, for they are getting you ready to fill up the land.
Sharing the journey,
Jeaninne
Writer's prayer: Lord thank you that success is not designed to come all at once as a Christian writer, but a little at a time. Amen.