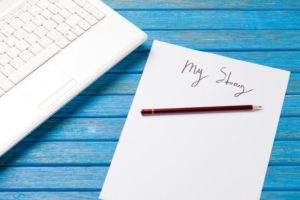 At the Lord's directions, Moses kept a written record of their progress. Numbers 33:2 NLT
Recently I attended the funeral of a friend's father. Initially, I found it difficult sitting through the funeral because I didn't know him. But as I listened to what others said about my friend's father and watched his life scroll across the monitor, I was connected to him by his story.
At the Lord's direction, Moses recorded the progress of the Israelites. God had delivered them from Egyptian bondage and knew their journey through the wilderness would be chock full of lessons that could benefit the next generation who read their story.
What can others learn from you about your life journey? What has God taught you about waiting, illness, relationships, failure, sorrow, love, happiness?  Maybe you thought the lessons you have learned along the way weren't important enough to write down, but they are. And one day, although your readers may have never gotten a chance to know you, they will know you by your story.
Are you keeping a written record of your journey?
Sharing the journey,
Jeaninne
Responding to God's call to write: If you haven't already done so, purchase a journal to write down the lessons you have learned and will learn this year from your life journey.