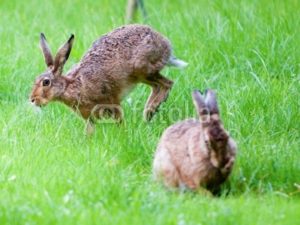 A martial arts student approached his teacher with a question. "I'd like to improve my knowledge of the martial arts. In addition to learning from you, I'd like to study with another teacher in order to learn another style. What do you think of this idea?"
"The hunter who chases two rabbits," answered the master, "catches neither one.
Aspiring writer, like the hunter, are you  chasing too many "rabbits" when writing. Do you start out with one thought when writing, then find yourself chasing another?
William Zinzzer states, in his book, On Writing Well: " Every successful piece of nonfiction should leave the reader with one provocative thought they didn't have before. Not two thoughts or five thoughts.  Just one.  So decide what single point you want to leave in the reader's mind, be content to cover it well and stop."
Now isn't that helpful advice to ensure you aren't chasing too many rabbits?
Sharing the journey,
Jeaninne
Writer's prayer: Father, I have a lot of ideas I'd like to write about, but help me to chase only one today. Amen.
Writer to Writer: What strategies do you use to  ensure you aren't chasing too many rabbits when you're writing? Share your comments on my blog. I enjoy hearing from you.